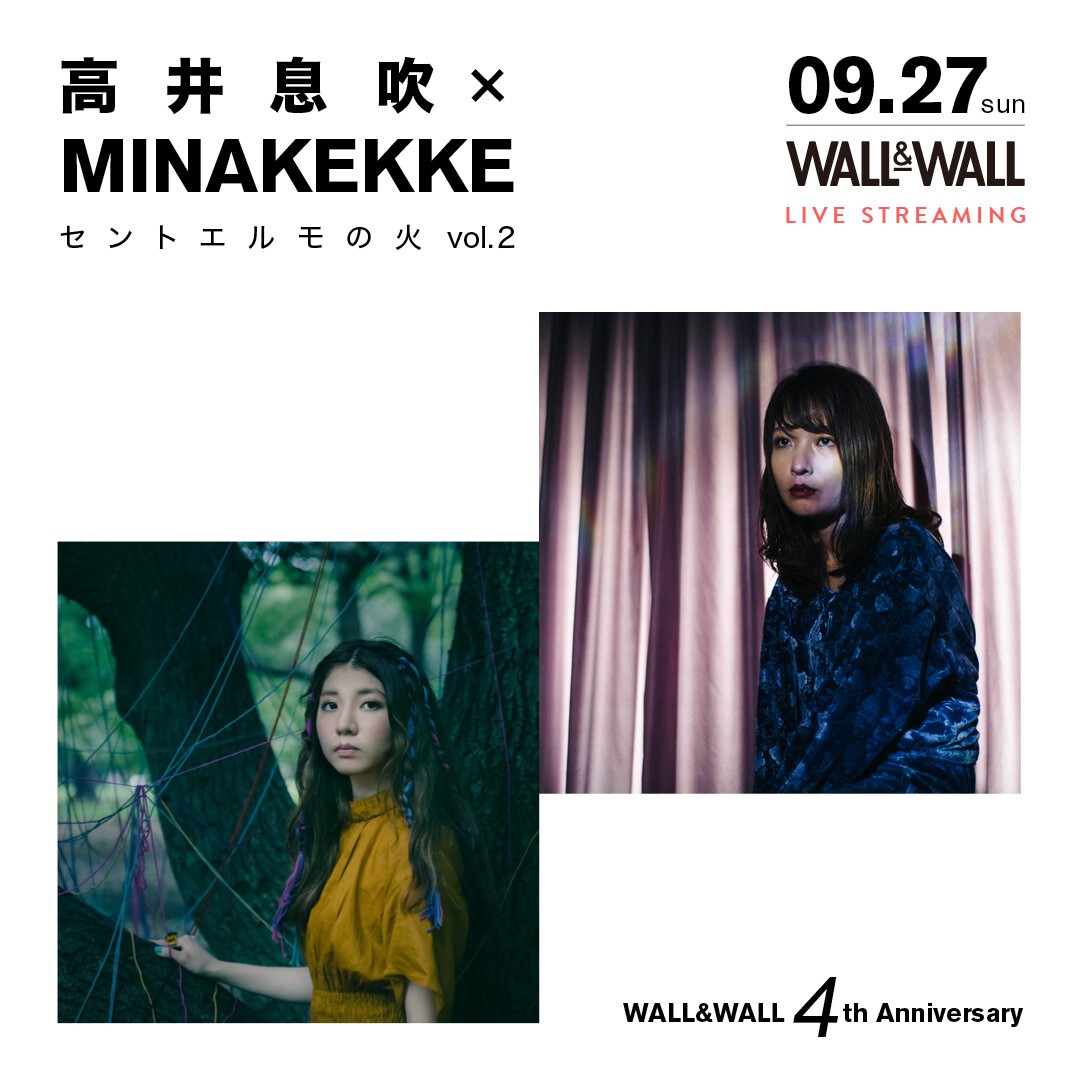 date_range 09.27 (Sun) Open: 19:00 Start: 19:30 ⇨ 09.30 (Wed) 21:00
grade Live
ONLINE SHOW
9月27日(日) 開場19:00 / 開演19:30 / 終演予定20:30
高井息吹 x MINAKEKKE「セントエルモの火 vol.2」
高井息吹 / MINAKEKKE

オンラインチケット(ZAIKO):
◎前売
配信一般チケット ¥2,000-
<販売期間:9/5 12:00~9/26 23:59>

◎当日以降
配信一般チケット ¥2,500-
<販売期間:9/27 00:00~9/30 19:00>



*配信のURLは購入したZAIKOアカウントのみで閲覧可能です。
*URLの共有、SNSへ投稿をしてもご本人のZAIKOアカウント以外では閲覧いただけません。
*途中から視聴した場合はその時点からのライブ配信となり、生配信中は巻き戻しての再生はできません。
*配信終了後、チケット購入者は9/30 23:59までアーカイヴでご覧いただけます。
*インターネットの接続が不安定な場合、配信クオリティが低下する可能性があります。
*入場チケット・投げ銭をご購入頂きましたお客様は、後日メールにてデータの受け渡しのご案内をお送りさせて頂きます。
*チケットをご購入頂く際に、販売手数料はお客様負担となります。


*The video is only viewable from inside the Zaiko account which purchased the ticket
*Video is unable to be viewed from a direct URL
*The video will start from whichever point you join the stream and you are unable to return to earlier content during the stream
*After the live streaming ends, ticket purchasers will be able to see it in the archives until 11:59pm on 30 September.
*An unstable internet connection may affect stream quality
*Customers who have purchased a ticket to enter the venue, or have purchesed the Stickits will be sent information on how to receive the data via email at a later date.
*The customer is responsible for the sales commission at the time of ticket purchase.